Enter into the silence.  Release your pain.  Return whole.
We will accompany you on this walk...in this place.
WELCOME - LASKAVO PROSYMO - BIENVENIDO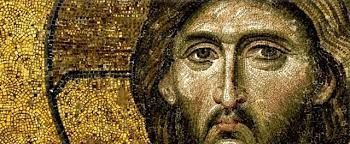 Come and join our Divine Liturgy
Monday - Friday 6:30AM
Saturday 7:00AM 
Sunday 10AM
*Donations?  PayPal is on our Contact Page

___________________________________________________________________________________________________________
CONSECRATION OF BROTHER SYMEON
During Solemn Vespers of "The Entrance of Our Blessed Lady, the Theotokos and Ever-Virgin Mary in the Temple, our dear Brother Symeon was consecrated as an elder monk in the brotherhood of Holy Transfiguration Monastery - Monks of Mt. Tabor.
We give thanks to God for the blessing of having Brother Symeon among us. Glory to Jesus Christ! Glory for ever!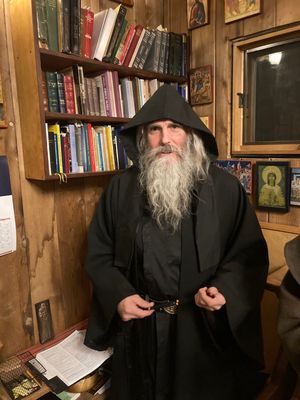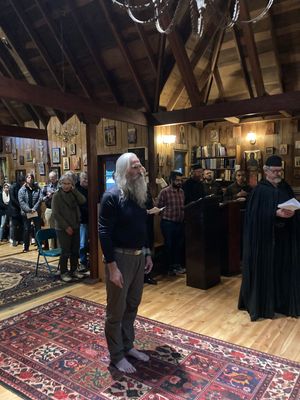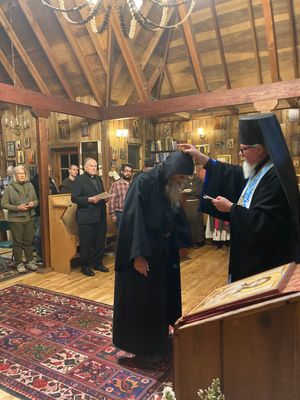 Reflection from Mount Tabor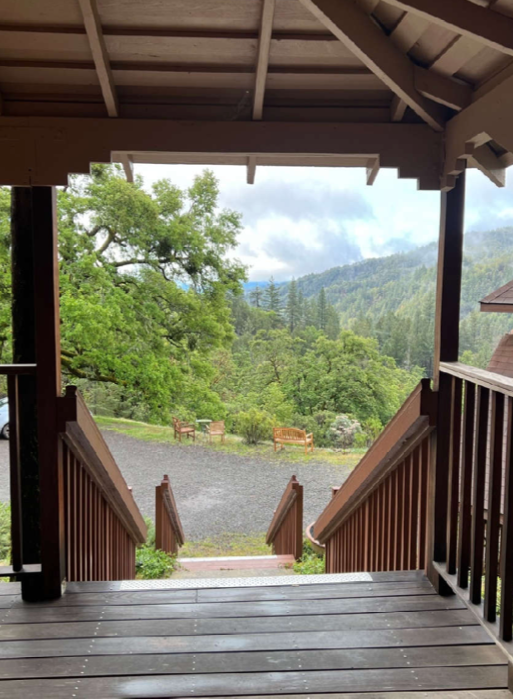 Wednesday August 31st 2022
God bless you,
In our Byzantine Christian Calendar, the 1st of September begins the new liturgical year. It is the occasion to give you updates. For the last 10 months I am with the Monks of Mount Tabor in Redwood Valley, California: a monastery belonging to the Ukrainian Catholic Church. The first months have been months of initiation discovering a new community and an Eastern Church Tradition. Even if the essential aim (intimate encounter with the Lord in the solitude of a hermitage, liturgical celebrations, chores to keep up the monastery) is much the same as my 4 previous decades in the Monastic Family of Bethlehem... there is much new. I am now in a 2nd phase: deepening appreciation of these new gifts, new knowledge and new engagement to go forward as a monk. Each monk carries treasures. Each monk in turn gives a reflection on the Gospel of the day proclaimed at the Divine Liturgy: there I hear the profound soul of my brother monks.
I am exploring with enthusiasm the history of the Byzantine Monastic Tradition, and in a special way the key role of Ukraine amidst the recent history of Christianity in the East European Countries and Russia. The fundamental intuition of Archimandrite Boniface, the Belgium-born founder of this Monastery of Mount Tabor, is that today the Ukrainian Monastic Tradition has a unique role for renewal of the universal Church and of the humanity of today. This may seem quite pretentious, especially see a frail community of about 10 monks after 50 years of existence... but I share more and more the intuition of the founder Abbot Boniface Luykx (died in 2004).
I have focused on becoming familiar with the liturgy celebrated in our beautiful Ukrainian-style Church, most of all the daily celebration of the Divine Liturgy of Saint John Chrysostom. The texts of our liturgy (in English) belong to a common treasure shared throughout the world in Byzantine monasteries of today and yesterday: to a large extent music, gestures, liturgical texts have been unchanged for centuries. I have a new sense of communion with monks who lived a long time ago and yet celebrated the same liturgy, had the same annual liturgical rhythms, the same chanted words to nourish their hearts. When I read their writings, or listen to another monk read their writings during meals at the refectory, I sense such a powerful union of my quest of today with the personal quest of ancient monks...It is like a living bridge across centuries.

A historical data on monasticism is deeply questioning me. There are three impressive "waves" in the monastic history: 3 regions of the world marked by decades or centuries of remarkable growth in the number of monks richly impacting the local civilization, and then a more or less remarkable abrupt fall of the numbers of monks in that region, so that are left a tiny percentage with respect to the years of blooming. The first case is in the eastern Mediterranean starting in the 4th century AD when Christianity became a state religion of the Roman Empire. The small Desert of Judah in between Jerusalem and the Dead Sea received the name of "Meadow of Monks" and peaked in the 7th century with about 10000 monks in that small area. But when the Muslims invaded all the eastern Mediterranean the number of monks was reduced there and everywhere to only a few monks, and this remains the situation today. The second region is Eastern Europe and Russia, after they converted to Christianity in the second millennium, there was a blossoming of monasteries reaching a peak at the end of the 18th century, but since the 19th century, under the influence of western rationalism, diminution started and the advent of Staline reduced rapidly to much less than 5% (with respect to the peak numbers) the eastern monks. Third case, Western Europe (to which I join America) a progressive increase of monks reached a plateau around the 15th century and now an abrupt diminution especially since the 1960's. Again we are today much less than 5% of the peak numbers. In short, God has allowed many a time monks to live in a period of abrupt diminution of monasteries and number of monks. All indicates that my monastic life is inside such times. This does not dim my enthusiasm to be a monk, nor my desire that young men and women choose to follow Jesus in monastic life. Indeed, it is a joy to have young men now taking steps to become monks at Mount Tabor. Realism requires me to still ask: how are we going to survive while remaining most probably a very small number?
Every sort of question or challenge is drowned inside the powerful repetition of the Eastern monk's prayer: Lord Jesus Christ, Son of the living God, have mercy on me a sinner.

I have great joy in the continued study of the psalms. Weekly, I am giving a "zoom sharing" to some lay people of different generations. Presently, we are studying systematically the psalms of the Fourth Book of the Psalter (Psalm 90 to 106). It requires hours of effort and perseverance to catch interiorly the dynamic of a psalm... but what a joy when one acquires such familiarity!

The guests coming to Mount Tabor give occasions to meet together for study of a passage of Holy Scripture
The monastery being in a valley, there is immediately accessible a path climbing up for a good half hour. Such walks, a wonderful hermitage kept very simple with no water or electricity, a very simple vegetarian diet, the family spirit of the community and its respect for life in solitude... all contribute to good health of body and soul. My work was cleaning up the forest, now my main work is rearranging the monastery's library... other chores here and there.

Last November, I engaged the procedure so as to be transferred from the Monks of Bethlehem to the monks of Mount Tabor. I thought the approval would come within a couple weeks. Today, I hope that the official request is on the table of the appropriate secretary in the Vatican... and I have no idea when a response will come. God knows.

I hope you are well. People who have been on my path come up now and then in my dreams... it is like a reminder how present you are to my life and prayer today.
May God's presence shine in your life,
Your brother Agapetos
---
Hierarchical Divine Liturgy of Pentecost Sunday
50th Anniversary of Holy Transfiguration Monastery
With His Grace VLADYKA BENEDICT
Deaconate Ordination of Schemamonk Gideon
June 5, 2022 - Redwood Valley, CA
Holy Transfiguration Monastery celebrated Pentecost Sunday in a special way. Our dear Bishop, His Grace Vladyka Benedict was the celebrant of the Hierarchical Divine Liturgy on this occasion celebrating three special events: Holy Pentecost Sunday, the 50th Anniversary of Holy Transfiguration Monastery and the ordination to the Deaconate of Schemamonk Gideon. 
Friends and benefactors accompanied the Monks of Mt. Tabor in the occasion. We thank His Grace, Vladyka Benedict for being present and supporting our Monastery -- his monastery. May God grant Holy Transfiguration Monastery, MANY YEARS.
---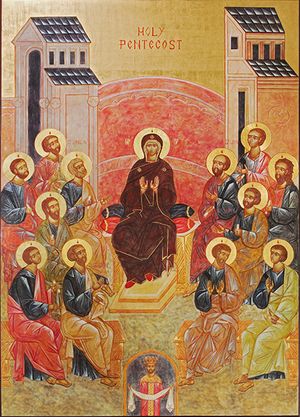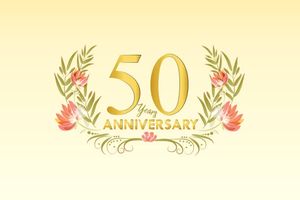 HOLY AND SOLEMN FEAST OF THE DESCENT OF THE HOLY SPIRIT
AND 
CELEBRATION OF THE 50th ANNIVERSARY OF THE FOUNDING  OF
HOLY TRANSFIGURATION MONASTERY
June 5, 2022
Christ is Risen!
Dear Brothers and Sisters,
Living in the joy of Christ's Resurrection we not live in the HOPE of being renewed in the Holy Spirit . In June 1972 there were no monks to form a community, no monastic buildings, no funding...only a vision that sprung forth from prayer. A seminary professor in Plymouth, Michigan had a keen awareness of a voice declaring "I love Mount Tabor". Thus began the journey of Fr. Boniface to establish what would come to be known as "The Monks of Mount Tabor" and later "Holy Transfiguration Monastery".
The Father reveals the love that He shares with the Son, the beloved One, Jesus the Christ (Luke 9:28-36). But rather than an exclusive love, it becomes all inclusive inviting Peter, James and John and thrugh them all of humanity, to be recognized as Children of God. What was witnessed by the Holy Apostles becomes a signature invitation for all to be united in true communion with The One who is our Light and Salvation.
The "pilgrimage" of Fr. Boniface and the first monks in building up a monastic life on Mt. Tabor began in Michigan, it continued in Dorris, CA, and later to settling in Redwood Valley, CA.
We will celebrate God's continued gracious action in the life of this monastery on June 5, 2022 at 10:00 AM. His Grace Bishop Benedict will be here to offer the Hierarchical Divine Liturgy with the ordination to deaconate of the schemamonk subdeacon Gideon. A luncheon will follow. This year's celebration will focus on giving thanks to God and all of you who make our life possible. Because of the present suffering of our brothers and sisters in Ukraine we have agreed that our extra resources should be used to assist those who have asked for our help. Next year 2023 we will look forward to making a more elaborate celebration. Please continue to pray for us to be faithful to our vocation here in this mountain, that we might be transfigured by The Light  radiating forth from the loving presence of Christ.
In the love of Christ,
Abbot Damian and the Monks of Mt. Tabor.
---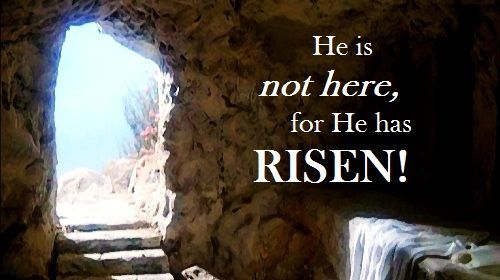 PASCHAL MESSAGE 2022
Christ is Risen!
Beloved of Mount Tabor.
You cannot attend a funeral in the presence of a dead body and not be challenged by the physical reality of death. Yet in the sacred ritual actions of the holy Church we proclaim what would appear to be a fantasy of Contradiction. If not a pure and false hope as we proclaim Christ is risen conquering death by death.
We believe and our faith is confirmed by a truth that is realized in the one who proclaims I AM THE RESURRECTION AND LIFE (Jn. 11:25).
In Christ, death is reconfigured not as an END but as a passage "the one who believes in Me ... shall live ... and shall never die" (Jn. 11:26).
To the unbeliever this would seem a CRUEL MANIPULATION of human emotions in the midst of the most painful of human experience, ie, biological disintegration proper to all living organisms. 
Upon hearing of Lazarus' death the same person spewing forth what appears to be nonsensical proposals namely that the dead who believe will live and they will live forever now WEEPS... Jn. 11:35. Jesus wept because Lazarus was dead and the he was four days riding in a tomb. As Jesus approaches the gravesite the holy Gospel puts Martha's caution into polite terms "Lord by this time there will be an odor..." (Jn. 11:39). The Byzantine Lenter Tridion uses a more crude expression "Lazarus stinks". He smells bad because his body is decomposing, that's what defines biologic al death. 
But dear brothers and sisters, our risen Savior invites us to see another reality. Even as He speaks to Martha in her grief, "Did I not tell you that if you would believe you would see the golry of God?" (Jn. 11:40). 
Belief, faith, confidence in the Divine plan to use all things for good even death THIS IS OUR HOPE, THIS IS OUR  TRUTH, CHRIST IS RISEN, TRULY HE IS RISEN.
Abbot Damian and the Monks of Holy Transfiguration Monastery, Redwood Valley, CA 
Christ is Risen!  Indeed He is Risen!
Christos Voskrese!  Voistinnu Voskrese!
Christos Anesti!  Alithos Anesti!  
---

Schedule of Services for Holy Week and Pascha - 2022
Friday
4:00 pm        Presanctified as usual (dark vestments).
                     Small Compline: in the cells.
Lazarus Saturday
6:00 am        Matins and Divine Liturgy (white vestments).
12:00 noon   Noon Office.
6:00 pm        Solemn Vespers of Palm Sunday and Small Compline.
Palm Sunday
                     Night Vigil in the cells.
6:45 am        Matins in the Church.
10:00 am      Palm Blessing in the Refectory, followed by:
                      Divine Liturgy of St. John Crysostom.
4:30 pm        Vespers.
5:30 pm        Supper.
6:30 pm        Small Compline with canons - Family Meeting.
Great and Holy Monday
5:30 am        Matins and Third Hour.
11:30 am      Sixth Hour in Church.
                     Ninth Hour in the cells.
4:00 pm        Presanctified ; the 
                     Supper.
                     Small Compline (with canon from the Triodion).
Great and Holy Tuesday
                     Poustinia until 2:30 pm, with:
                     Matins, Third Hour and Sixth Hour in the cells.
3:00 pm        Penance Service with confessions; then, immediately:
                     Presanctified 
                     and Anointing Service, at the end of the Presanctified.
                     Small Compline (with canon from the Triodion) in the cells for poustinia.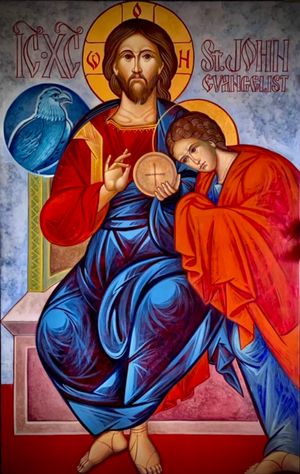 Great and Holy Thursday
5:30 am        Matins and First Hour: in the Church.
                     Little Hours ordinary; in the cells.
4:00 pm        Footwshing Services and Vesperal Divine Liturgy of St. Basil the Great.
                     Holy Meal (directly after Church services).
                     Small Compline: in the cells.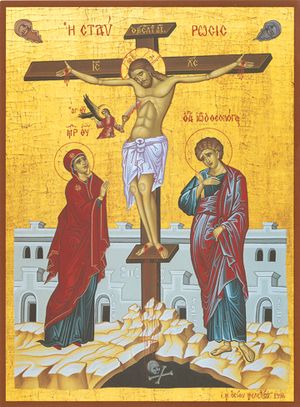 Great and Holy Friday  (Nothing but plain bread and water are set out)
5:30 am        Office of the Twelve Gospels in procession around the Church.
                     Third Royal Hour: in the cells.
11:30 am      Sixth Royal Hour in Church.
                     Ninth Royal Hour in the cells.
4:00 pm        Vespers with Burial Service.
6:30 pm        Small Compline: in Church (canons from Triodion)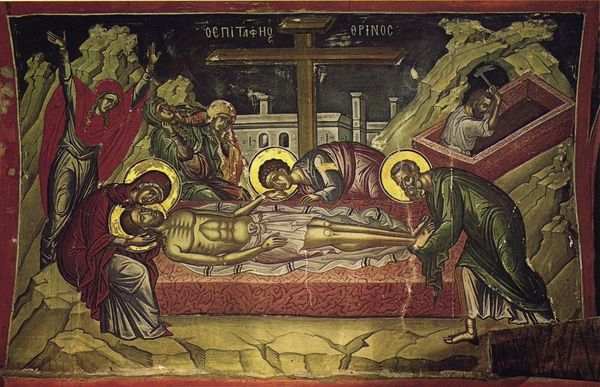 Great and Holy Saturday
5:30 am        Matins in Church
                     Little Hours in the cells.
4:00 pm        Vesperal Liturgy of St. Basil the Great for Pascha 
                     followed by a fasting meal of soup and bread.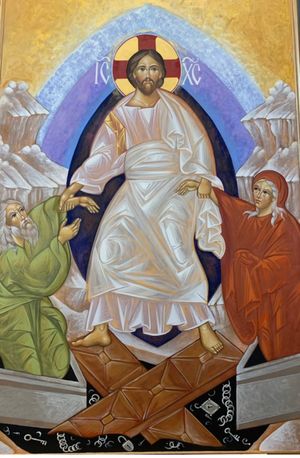 Pascha Sunday
6:00 am       "Midnight" Office, Procession with Shroud 
                    and Formal Entrance into the Church with "Christ is Risen".
                    Paschal Matins and Divine Liturgy of St. John Chrysostom, 
                    and Blessing of Paschal food baskets - followed by Festal Meal
                    with Blessed Food. 
12:00 pm     The small Resurrection Office.
4:30 pm       Vespers, and Resurrection Office in the Church.
5:00 pm       Supper.
                    Family Meeting.
---
Come in and worship the Lord!
---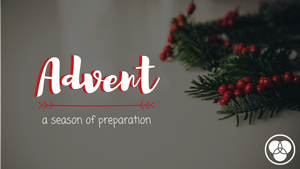 Nov. 14 - Feast of St. Philip the Apostle: beginning of Philipovke, the Advent Fast: Mondays through Fridays: no meat or dairy products are allowed. Saturdays, Sundays, and Solemn Feasts: dairy products are allowed.
Nov. 21, Sunday and Solemn Feast of the Entrance of the Mother of God into the Holy Temple. (Follow the usual Sunday schedule).
Nov. 25, Thursday: Thanksgiving Day: although it's not liturgically a solemn feast, we follow the schedule for solemn feast days. Thanksgiving Dinner at 5:30 p.m., with dispensation from the Advent Fast.
Dec. 5, Sunday: Even of the Solemn Feast of St. Nicholas of Myra: St. Nicholas will visit the children.
Dec. 6, Monday: Solemn Feast of St. Nicholas of Myra: Solemn festive schedule.
4:30 p.m. the night before: Great Vespers;
6:45 a.m. Matins, followed at about 8:00 by the Divine Liturgy.
Dec. 7, Tues: Feast of the Dedication of our temple of St. Nicholas.
Dec. 8, Wed: Solemn Feast of the Maternity of St. Anna. Solemn festive schedule.
Dec. 12: Sunday & Feast of Our Lady of Guadalupe:  Regular Sunday schedule. We will process into the Temple with the icon of Our Lady while singing the songs/hymns of Las Mañanitas.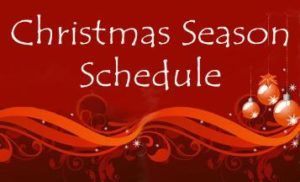 Dec. 24, Fri: Vigil of Christmas:
            Royal Hours:
                        1st R. Hour, right after Matins. — 3rd R. Hour, 9:30 a.m. in the cells. — 6th R. Hour together, 11:30 a.m.
            4:00 p.m. Divine Liturgy of St. Basil the Great.
            8:00 p.m. or so: the Great Compline.
Dec. 25, Sat.: Christmas Day:
            9:00 a.m. Matins.
            10:00 a.m. Divine Liturgy of St. John Chrysostom.
Dec. 26: the Sunday after Christmas.
Jan. 1, Saturday: Solemn Feast of the Circumcision of Christ, and Feast of St. Basil.
            12 midnight.
Jan. 5, Wed: Vigil of Theophany & Great Blessings of the Waters.
Royal Hours (same schedule as for Vigil of Christmas — see above).
            4:00 p.m. Divine Liturgy for the feast.
Jan. 6, Thur: Holy Theophany & Great Blessing of the Water:
            6:45 a.m. Matins, followed by Divine Liturgy.
            We will be blessing the buildings of the monastery, and the homes of those among our friends who wish them blessed — please sign up for a schedule blessing of your home.
---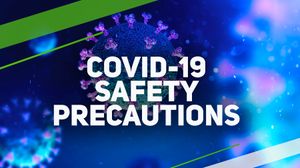 Out of concern and charity for all the community members and guests please observe the following  precautions.
Do not come to the monastery if you are experiencing these symptoms:
Fever or chills
cough
shortness of breath or difficulty breathing
fatigue
muscle or body aches
headache
new loss of taste or smell
sore throat
congestion, runny nose
nausea, vomiting
diarrhea
Symptoms of covid infection may appear 2 to 14 days after exposure to the virus. Unvaccinated  persons should wear masks to prevent possible viral spread.
---