Enter into the silence.  Release your pain.  Return whole.
We will accompany you on this walk...in this place.
WELCOME - LASKAVO PROSYMO - BIENVENIDO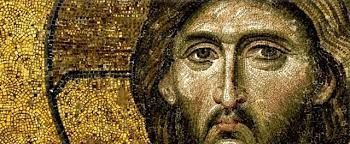 Come and join our Divine Liturgy
Monday - Friday 6:30AM
Saturday 7:00AM 
Sunday 10AM
*Donations?  PayPal is on our Contact Page

___________________________________________________________________________________________________________
Hierarchical Divine Liturgy of Pentecost Sunday
50th Anniversary of Holy Transfiguration Monastery
With His Grace VLADYKA BENEDICT
Deaconate Ordination of Schemamonk Gideon
June 5, 2022 - Redwood Valley, CA
Holy Transfiguration Monastery celebrated Pentecost Sunday in a special way. Our dear Bishop, His Grace Vladyka Benedict was the celebrant of the Hierarchical Divine Liturgy on this occasion celebrating three special events: Holy Pentecost Sunday, the 50th Anniversary of Holy Transfiguration Monastery and the ordination to the Deaconate of Schemamonk Gideon. 
Friends and benefactors accompanied the Monks of Mt. Tabor in the occasion. We thank His Grace, Vladyka Benedict for being present and supporting our Monastery -- his monastery. May God grant Holy Transfiguration Monastery, MANY YEARS.
---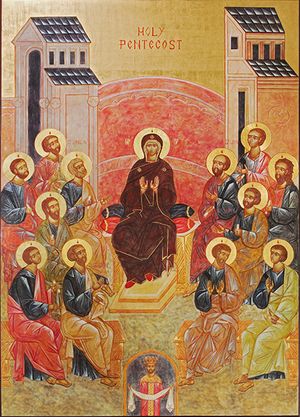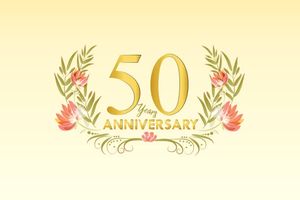 HOLY AND SOLEMN FEAST OF THE DESCENT OF THE HOLY SPIRIT
AND 
CELEBRATION OF THE 50th ANNIVERSARY OF THE FOUNDING  OF
HOLY TRANSFIGURATION MONASTERY
June 5, 2022
Christ is Risen!
Dear Brothers and Sisters,
Living in the joy of Christ's Resurrection we not live in the HOPE of being renewed in the Holy Spirit . In June 1972 there were no monks to form a community, no monastic buildings, no funding...only a vision that sprung forth from prayer. A seminary professor in Plymouth, Michigan had a keen awareness of a voice declaring "I love Mount Tabor". Thus began the journey of Fr. Boniface to establish what would come to be known as "The Monks of Mount Tabor" and later "Holy Transfiguration Monastery".
The Father reveals the love that He shares with the Son, the beloved One, Jesus the Christ (Luke 9:28-36). But rather than an exclusive love, it becomes all inclusive inviting Peter, James and John and thrugh them all of humanity, to be recognized as Children of God. What was witnessed by the Holy Apostles becomes a signature invitation for all to be united in true communion with The One who is our Light and Salvation.
The "pilgrimage" of Fr. Boniface and the first monks in building up a monastic life on Mt. Tabor began in Michigan, it continued in Dorris, CA, and later to settling in Redwood Valley, CA.
We will celebrate God's continued gracious action in the life of this monastery on June 5, 2022 at 10:00 AM. His Grace Bishop Benedict will be here to offer the Hierarchical Divine Liturgy with the ordination to deaconate of the schemamonk subdeacon Gideon. A luncheon will follow. This year's celebration will focus on giving thanks to God and all of you who make our life possible. Because of the present suffering of our brothers and sisters in Ukraine we have agreed that our extra resources should be used to assist those who have asked for our help. Next year 2023 we will look forward to making a more elaborate celebration. Please continue to pray for us to be faithful to our vocation here in this mountain, that we might be transfigured by The Light  radiating forth from the loving presence of Christ.
In the love of Christ,
Abbot Damian and the Monks of Mt. Tabor.
---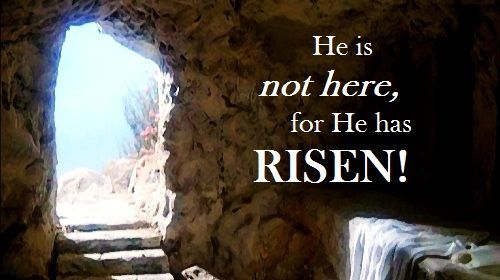 PASCHAL MESSAGE 2022
Christ is Risen!
Beloved of Mount Tabor.
You cannot attend a funeral in the presence of a dead body and not be challenged by the physical reality of death. Yet in the sacred ritual actions of the holy Church we proclaim what would appear to be a fantasy of Contradiction. If not a pure and false hope as we proclaim Christ is risen conquering death by death.
We believe and our faith is confirmed by a truth that is realized in the one who proclaims I AM THE RESURRECTION AND LIFE (Jn. 11:25).
In Christ, death is reconfigured not as an END but as a passage "the one who believes in Me ... shall live ... and shall never die" (Jn. 11:26).
To the unbeliever this would seem a CRUEL MANIPULATION of human emotions in the midst of the most painful of human experience, ie, biological disintegration proper to all living organisms. 
Upon hearing of Lazarus' death the same person spewing forth what appears to be nonsensical proposals namely that the dead who believe will live and they will live forever now WEEPS... Jn. 11:35. Jesus wept because Lazarus was dead and the he was four days riding in a tomb. As Jesus approaches the gravesite the holy Gospel puts Martha's caution into polite terms "Lord by this time there will be an odor..." (Jn. 11:39). The Byzantine Lenter Tridion uses a more crude expression "Lazarus stinks". He smells bad because his body is decomposing, that's what defines biologic al death. 
But dear brothers and sisters, our risen Savior invites us to see another reality. Even as He speaks to Martha in her grief, "Did I not tell you that if you would believe you would see the golry of God?" (Jn. 11:40). 
Belief, faith, confidence in the Divine plan to use all things for good even death THIS IS OUR HOPE, THIS IS OUR  TRUTH, CHRIST IS RISEN, TRULY HE IS RISEN.
Abbot Damian and the Monks of Holy Transfiguration Monastery, Redwood Valley, CA 
Christ is Risen!  Indeed He is Risen!
Christos Voskrese!  Voistinnu Voskrese!
Christos Anesti!  Alithos Anesti!  
---

Schedule of Services for Holy Week and Pascha - 2022
Friday
4:00 pm        Presanctified as usual (dark vestments).
                     Small Compline: in the cells.
Lazarus Saturday
6:00 am        Matins and Divine Liturgy (white vestments).
12:00 noon   Noon Office.
6:00 pm        Solemn Vespers of Palm Sunday and Small Compline.
Palm Sunday
                     Night Vigil in the cells.
6:45 am        Matins in the Church.
10:00 am      Palm Blessing in the Refectory, followed by:
                      Divine Liturgy of St. John Crysostom.
4:30 pm        Vespers.
5:30 pm        Supper.
6:30 pm        Small Compline with canons - Family Meeting.
Great and Holy Monday
5:30 am        Matins and Third Hour.
11:30 am      Sixth Hour in Church.
                     Ninth Hour in the cells.
4:00 pm        Presanctified ; the 
                     Supper.
                     Small Compline (with canon from the Triodion).
Great and Holy Tuesday
                     Poustinia until 2:30 pm, with:
                     Matins, Third Hour and Sixth Hour in the cells.
3:00 pm        Penance Service with confessions; then, immediately:
                     Presanctified 
                     and Anointing Service, at the end of the Presanctified.
                     Small Compline (with canon from the Triodion) in the cells for poustinia.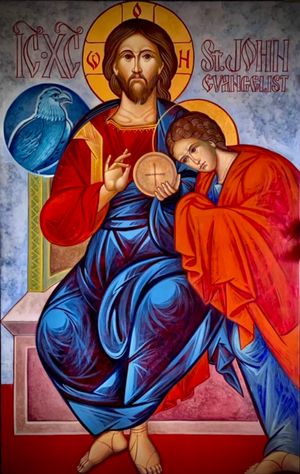 Great and Holy Thursday
5:30 am        Matins and First Hour: in the Church.
                     Little Hours ordinary; in the cells.
4:00 pm        Footwshing Services and Vesperal Divine Liturgy of St. Basil the Great.
                     Holy Meal (directly after Church services).
                     Small Compline: in the cells.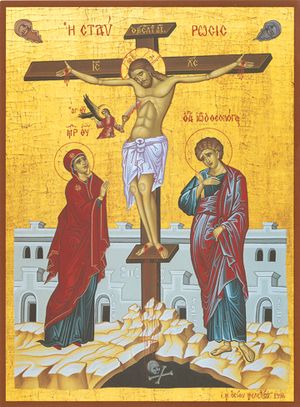 Great and Holy Friday  (Nothing but plain bread and water are set out)
5:30 am        Office of the Twelve Gospels in procession around the Church.
                     Third Royal Hour: in the cells.
11:30 am      Sixth Royal Hour in Church.
                     Ninth Royal Hour in the cells.
4:00 pm        Vespers with Burial Service.
6:30 pm        Small Compline: in Church (canons from Triodion)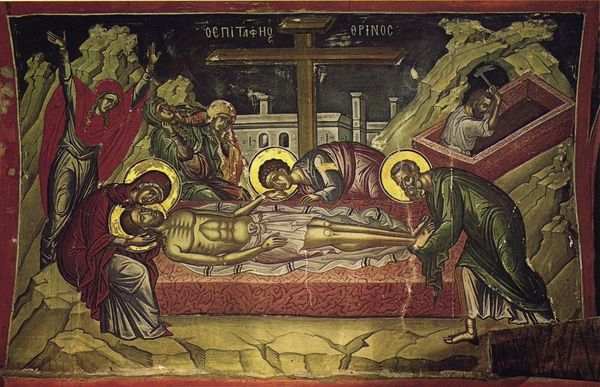 Great and Holy Saturday
5:30 am        Matins in Church
                     Little Hours in the cells.
4:00 pm        Vesperal Liturgy of St. Basil the Great for Pascha 
                     followed by a fasting meal of soup and bread.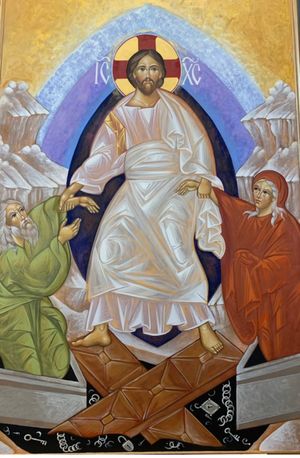 Pascha Sunday
6:00 am       "Midnight" Office, Procession with Shroud 
                    and Formal Entrance into the Church with "Christ is Risen".
                    Paschal Matins and Divine Liturgy of St. John Chrysostom, 
                    and Blessing of Paschal food baskets - followed by Festal Meal
                    with Blessed Food. 
12:00 pm     The small Resurrection Office.
4:30 pm       Vespers, and Resurrection Office in the Church.
5:00 pm       Supper.
                    Family Meeting.
---
Come in and worship the Lord!
---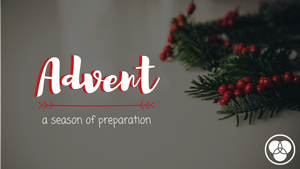 Nov. 14 - Feast of St. Philip the Apostle: beginning of Philipovke, the Advent Fast: Mondays through Fridays: no meat or dairy products are allowed. Saturdays, Sundays, and Solemn Feasts: dairy products are allowed.
Nov. 21, Sunday and Solemn Feast of the Entrance of the Mother of God into the Holy Temple. (Follow the usual Sunday schedule).
Nov. 25, Thursday: Thanksgiving Day: although it's not liturgically a solemn feast, we follow the schedule for solemn feast days. Thanksgiving Dinner at 5:30 p.m., with dispensation from the Advent Fast.
Dec. 5, Sunday: Even of the Solemn Feast of St. Nicholas of Myra: St. Nicholas will visit the children.
Dec. 6, Monday: Solemn Feast of St. Nicholas of Myra: Solemn festive schedule.
4:30 p.m. the night before: Great Vespers;
6:45 a.m. Matins, followed at about 8:00 by the Divine Liturgy.
Dec. 7, Tues: Feast of the Dedication of our temple of St. Nicholas.
Dec. 8, Wed: Solemn Feast of the Maternity of St. Anna. Solemn festive schedule.
Dec. 12: Sunday & Feast of Our Lady of Guadalupe:  Regular Sunday schedule. We will process into the Temple with the icon of Our Lady while singing the songs/hymns of Las Mañanitas.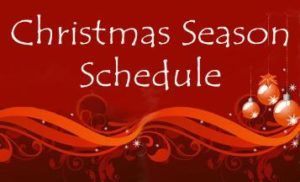 Dec. 24, Fri: Vigil of Christmas:
            Royal Hours:
                        1st R. Hour, right after Matins. — 3rd R. Hour, 9:30 a.m. in the cells. — 6th R. Hour together, 11:30 a.m.
            4:00 p.m. Divine Liturgy of St. Basil the Great.
            8:00 p.m. or so: the Great Compline.
Dec. 25, Sat.: Christmas Day:
            9:00 a.m. Matins.
            10:00 a.m. Divine Liturgy of St. John Chrysostom.
Dec. 26: the Sunday after Christmas.
Jan. 1, Saturday: Solemn Feast of the Circumcision of Christ, and Feast of St. Basil.
            12 midnight.
Jan. 5, Wed: Vigil of Theophany & Great Blessings of the Waters.
Royal Hours (same schedule as for Vigil of Christmas — see above).
            4:00 p.m. Divine Liturgy for the feast.
Jan. 6, Thur: Holy Theophany & Great Blessing of the Water:
            6:45 a.m. Matins, followed by Divine Liturgy.
            We will be blessing the buildings of the monastery, and the homes of those among our friends who wish them blessed — please sign up for a schedule blessing of your home.
---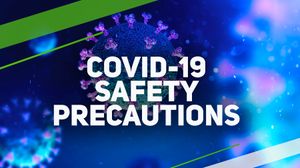 Out of concern and charity for all the community members and guests please observe the following  precautions.
Do not come to the monastery if you are experiencing these symptoms:
Fever or chills
cough
shortness of breath or difficulty breathing
fatigue
muscle or body aches
headache
new loss of taste or smell
sore throat
congestion, runny nose
nausea, vomiting
diarrhea
Symptoms of covid infection may appear 2 to 14 days after exposure to the virus. Unvaccinated  persons should wear masks to prevent possible viral spread.
---
---
Intake: A Place for Complex Spiritual Triage & Healing Cases
As we brethren of the Holy Transfiguration Monastery approach our 50-Year Anniversary, the priests, deacon, monks, novices (and the occasional long-term visitor) here have been reflecting upon where we've been, where we are now…and where we would like to go as we usher in our next half century.  Yet, as we ponder our way forward—while considering the roads we've traveled thus far—one supreme need still seems to tower over all the others...
Spiritual Healing
Our Sunday visitors seek this each week, as do our single and multi-day retreatants.  The slightly less numerous Lenten penitents will pursue his, her or their healing with us through fasting, abstinence and our more penitential daily offices.  And others will come from great distances to find the elusive answers to their mental, emotional and spiritual maladies that seem to resist all efforts towards healing.
And what, exactly, is their pain?
    In the course of several years of deliverance work, I can now say that the 'bread & butter' deliverance candidate needs knowledge of, coping skills for and relief from those maddening (but still more common) woes that go by names such as anger, sorrow, fear, lust, anxiety, despondency, envy, negativity, sadness, addiction, regret, and resentment…to name a few.  But by identifying and renouncing these sources of suffering, and then taking back the control of their live from those to whom we may have given it—intentionally or unintentionally—men and women of all ages, professions, races, genders and faiths can, will and do find that long-sought relief.
Yet…some wounds—and their necessary forms of healing—
are not of the garden variety.
    In the Faith & Spiritual worlds these days, it has become popular to refer to oneself as a,'seeker.'  Many 'seekers' become curious to experience the pseudo-mystical, esoteric states of mind they have either read or heard about. Yet too often, these 'seekers' get trapped in a world beyond their comprehension (and their seeking) and then, they struggle to understand how their troublesome new symptoms came about…and much, much worse, why these symptoms won't go away.  I read about a woman 'seeker' who traveled from the US to South America to speak and interact with an indigenous "spiritual healer."  The evidence indicates that since the time of that meeting, the woman was—and continues to be—afflicted with spirits.  Where was the healing here and why did she embark upon this perilous quest in the first place? What's more…what steps does she need to take now to extricate herself from it?
The need for the Spiritual Triage this Monastery offers should begin in each case where 'seekers' of all ages, races, income levels, genders and faiths have--ill advisably--made their initial entry into what we refer to as, "the dark world."  Sometimes the person had an idea of what he or she was doing, but in most cases, the 'seeker' was woefully unprepared—to the point of ignorant—for what lie in store for him or her.  And to what—or whom—does the 'seeker' become entangled to his or her detriment?  Card readers, witches, Ouija boards, seances, mediums, shamans, palm readers, spells, potions, curses and even certain types of yoga, to name a few.  In stark language, once the smoke, the promises and the excitement have dissipated, the person has run afoul of unclean spirits—demons.
Yet, there is help and there is hope, and the Spiritual Triage Center can assist you in understanding where you need to go, who you need to see, and what you need to do.  Now...for real healing...for lasting healing.  If you would like to ask any questions and/or discuss your (or a loved one's) case, please contact:
Sub-Deacon/Brother Gideon at brgideon@monksofmttabor.com or on his cell at (707) 485-4162.
---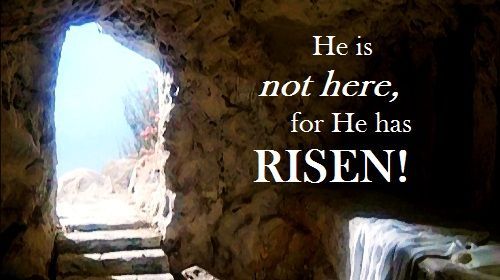 PASCHAL MESSAGE 2021
CHRIST IS RISEN!
Dear Brothers and Sisters, is there anything more powerful for us to proclaim? Or strange?
Christ is risen... and now our very existence has been REDEFINED. For the very fact that we are born is the fact at some point we will die and thus it is DEATH that defines what it means to be human. On Lazarus Saturday we hear Jesus reveal I AM... Resurrection... I AM... Life! (John 11:25).
In speaking to His friend Martha, the sister of the one who has died and is now beginning to decompose in a tomb, Jesus Christ does not merely seek to comfort Martha but to CONFOUND her experience of life which for all people is concluded by biological disintegration.
I AM is the name of God given to Moses who encounters the burning bush in the desert which is not consumed by the fire (Exodus 3:14) ... how confounding!? A material thing united with inmaterial fire and yet not consumed. Revealing His name as I AM, the ONE WHO IS, and who shares His life-giving existence with us. "In HIm we live, we MOVE (dead people don't move) and have our being" (Acts 17:28). Jesus Christ not only gives hope and consolation to the dead and dying, HE IS OUR HOPE.
Christ is not risen for His own sake but for ours to reveal that from the moment we were created, given being, it was so that we might be with Him, not merely in this present form but FOREVER. Christ is Risen.
We have been GREATLY blessed by a large number of faithful who have prayerfully participated in all of the services of great and holy week. We also want to extend our Paschal greetings to all our beloved ones who could not be here with us and assure them of our prayers before the GLORY of the Risen Lord.
CHRIST IS RISEN! TRULY HE IS RISEN!
+ Abbot Damian
and the Brotherhood of Holy Transfiguration Monastery — Monks of Mt. Tabor
Christ is risen! Truly He is risen!
Khristos voskres! Voistinu voskres! (Ukrainian)
Christos anesti! Alithos anesti! (Greek)
Christus resurrexit! Vere resurrexit! (Latin)
¡Cristo ha resucitado! ¡En verdad Ha resucitado! (Spanish)
Khristus zmartwyckwstal! Zaprawde zmartwyckwstal (Polish)
Cristo è risorto! Veramente è risorto! (Italian)
El Messie kahm! Hakken kahn! (Arabic)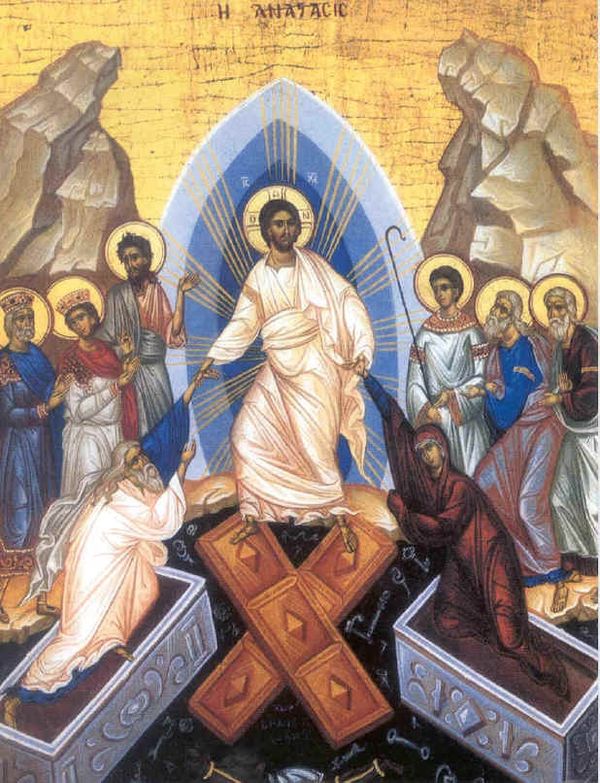 ---